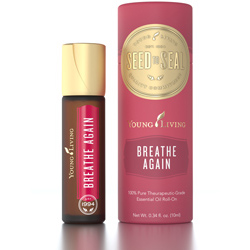 This supercharged version of R.C. blend is packaged in a convinient dispenser for easy use when air pollution makes it difficult to breathe, or throat and nasal congestion strike. With a refreshing and rejuvenating aroma, the Young Living Breathe Again Roll-On is the perfect companion for early mornings, long days, and tough workouts. Our proprietary Breathe Again essential oil combines oils such as Peppermint, Myrtle, and Copaiba with four different types of eucalyptus—including Eucalyptus Blue grown on Young Living's Ecuador farm—to create a powerful, invigorating experience.
All these oils are known for their ability to relax airways, make breathing easier, and reduce coghing. In addition, these oils have anti-inflammatory characterisitics.
This rejuvenating blend, which includes the naturally occurring constituent eucalyptol, comes in a convenient roll-on applicator, so you can easily use it anytime, anywhere. Keep it in your car, purse, pocket, or bag and simply apply it as needed under your nose or on your head, neck, or chest to awaken and invigorate your senses.
Breathe Again Roll-On Uses
Apply Breathe Again to your back, neck, or chest before a steamy shower for an invigorating aromatic experience.
Carry the roll-on in your purse or gym bag for a portable refresher whenever you need it.

Use the roller to massage oil onto muscles after a long day or hard workout.

Jump-start the morning by applying the rejuvenating scent to your chest or under your nose.
How to Use
Apply generously to throat, chest, and neck as desired for relief symptoms related to colds coughs, or sinus/lung conjestion.
Caution: Keep out of reach of children. If you are pregnant, nursing, taking medication, or have a medical condition, consult a health professional prior to use.
Ingredients
Caprylic/capric triglyceride, Eucalyptus staigeriana leaf oil, Eucalyptus globulus leaf oil, Laurus nobilis oil, Rosa rubiginos (Rose hip) seed oil, Mentha piperita (Peppermint) oil, Eucalyptus radiata leaf oil, Copaifera officinalis (Balsam copaiba) resin, Callitris intratropica (Blue cypress) wood oil, Eucalyptus bicostata leaf oil, Myrtus communis (Myrtle) oil
100% pure, therapeutic-grade essential oil
All material provided on this website is provided for informational or educational purposes only,
and is not intended as a substitute for the advice provided by your healthcare professional or physician.