Keep up w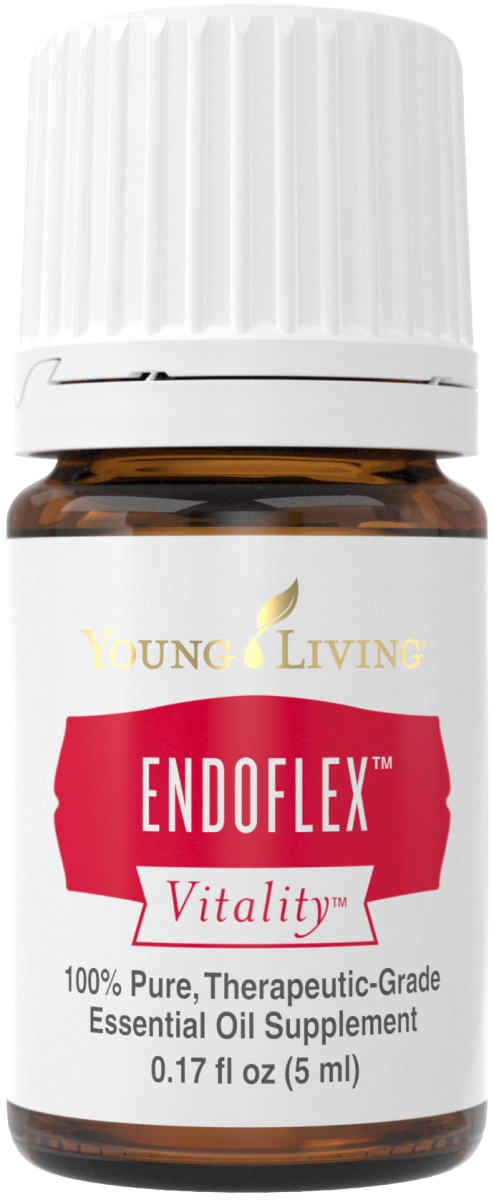 ith your overall wellness and day-to-day schedule with help from EndoFlex™ Vitality™. Young Living's EndoFlex Vitality essential oil uses a base of sesame seed oil and adds our proprietary blend of essential oils for wellness support.
This blend contains oils very specific to the thyroid while at the same time addressing the entire endocrine system. Myrtle stimulates and promotes good thyroid health when combined with Spearmint, encouraging better circulation, stronger metabolism, and production of digestive enzymes. Geranium contains esters that protect the thyroid, which may explain why it is so heralded in French publications as a general tonic for the body. It supports the thyroid in being able to uptake iodine from food.*
In addition to the popular Spearmint Vitality essential oil, EndoFlex Vitality oil features Sage, Geranium, Myrtle, Nutmeg, and German Chamomile to create a unique blend that may support a healthy lifestyle*. Adding this oil to your wellness regimen is as easy as combining it with a refreshing glass of juice or relaxing cup of tea.
EndoFlex Vitality Essential Oil Uses:
Take daily with a gel capsule. Combine 1 drop EndoFlex Vitality with 1 drop of V-6™ Vegetable Oil Complex.

Add a drop or two to 2–4 oz. of NingXia Red® for a quick shot of this blend.

Create a drink that uplifts and invigorates by adding EndoFlex to our sparkling NingXia Zyng™. Use this essential oil-infused beverage to jump-start the day or make it through the afternoon slump.

Combine a drop of oil with a large cup of warm tea or tall glass of water. If you find a drop overwhelms the flavor, dip a toothpick in the oil and swirl it in your drink.
How to Use
Dilute 1 drop with 1 drop of carrier oil. Put in a capsule and take up to 3 times daily.
Ingredients
A base of sesame seed oil, spearmint (Mentha spicata), sage (Salvia officinalis), geranium (Pelargonium graveolens), myrtle (Myrtus communis), nutmeg (Myristica fragrans), and German chamomile (Matriciaria recutita).
*These statements have not been evaluated by the Food and Drug Administration. This product is not intended to diagnose, treat, cure or prevent any disease.
All material provided on this website is provided for informational or educational purposes only,
and is not intended as a substitute for the advice provided by your healthcare professional or physician.