Featured in our Golden Touch 1™ Collection, JuvaFlex® Vitality™ combines Fennel, Geranium, Rosemary, Roman Chamomile, Blue Tansy, and Helichrysum essential oils. A beneficial complement to other supportive dietary blends, JuvaFlex Vitality can help support a healthy lifestyle regimen when taken internally.*
Use with the rest of Young Living's Juva line, including JuvaCleanse®, JuvaPower®, and JuvaTone®.
             Juva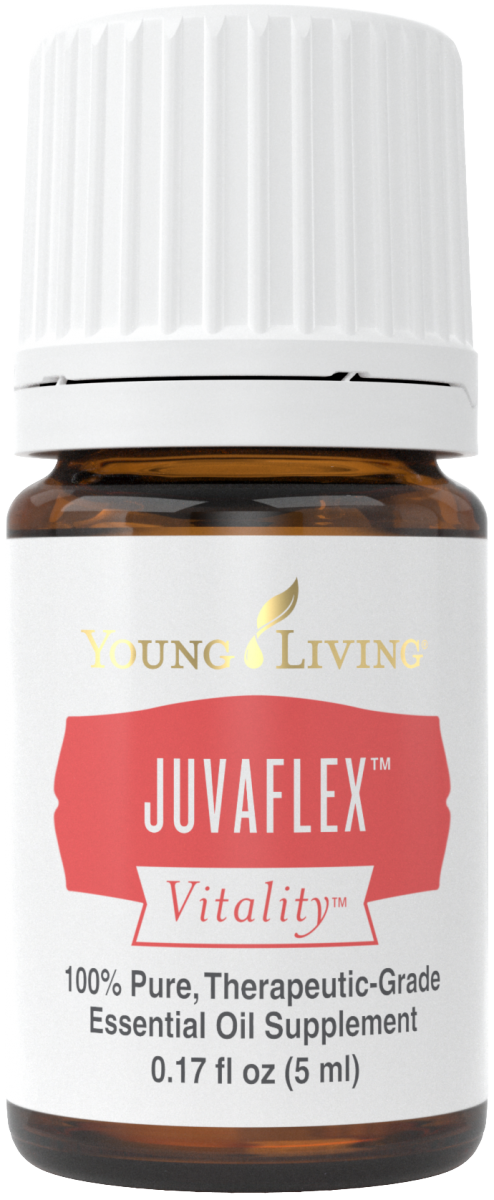 Flex Vitality Essential Oil Uses:
Take as a dietary supplement daily to support overall wellness.*
To support wellness, take with JuvaTone 2 times daily between meals.*
Add to your favorite green smoothie or juice with JuvaPower to get the most out of this antioxidant vegetable powder complex.
                               How to Use
           Put 2 drops in a capsule. Take 3 times daily or as needed.
Ingredients
Sesame (Sesamum indicum) seed oil, Fennel (Foeniculum vulgare)† seed oil, Geranium (Pelargonium graveolens)† flower oil, Rosemary (Rosmarinus officinalis)† leaf oil, Roman Chamomile (Chamaemelum nobile)† flower oil, Blue tansy (Tanacetum annum)† flowering top/herb oil, Helichrysum (Helichrysum italicum)† flower oil
†100% pure, therapeutic-grade essential oil
*These statements have not been evaluated by the Food and Drug Administration. This product is not intended to diagnose, treat, cure or prevent any disease.
All material provided on this website is provided for informational or educational purposes only,
and is not intended as a substitute for the advice provided by your healthcare professional or physician.