This is a high-powered calcium and essential mineral complex with an almost 1/1 calcium to magnezium ratio. It contains elemental magnesium and calcium along with key quantities of zinc, manganese, ans copper, balanced to scientific ratios to avoid mineral interaction and competition.
   Calcium and magnesium are necessary not only for healthy bones and teeth but also for proper heart and blood function and to keep nerve and muscles working properly. MegaCal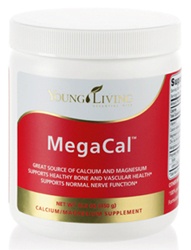 contains 207 mg of calcium and 188 mg of magnesium per serving.*
How to Use
Take 1 scoop (1 tsp) (5g) with 1 cup (240 ml) of water or juice daily, one hour after a meal or taking medication or an hour before bedtime. Do not exceed 3 servings daily.

Caution: For human consumption only. Keep out of reach of children. If pregnant, nursing, taking medications, or have a medical condition, consult a healthcare practitioner prior to use. Do not feed Megacal to dogs.

Storage: Keep out of reach of children. Keep in a cool dry place. Do not expose to excessive heat or direct sunlight. If pregnant or under a doctor's care, consult your physician.
Ingredients:
Vitamin C, calcium (lactate, glycerophosphate, carbonate, and ascorbate), magnesium (as citrate, sulfate, and carbonate), zinc (as z gluconate), manganese (as sulfate), xylitol, fractionated coconut oil.
Essential oil: Lemon