Thursday, February 11, 2016 - 22:07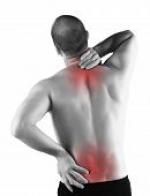 Tips to Avoid Lasting Pain                                                                                                     February 12, 2016
Chances are good that, at some point in your life, you will have back pain. In fact, 70-85 percent of Americans will experience back pain at some point in their lives. But even with those odds, there are still several ways to minimize your risk and give yourself the best chance to live pain-free.
Several factors can cause back pain, including stress, poor posture, bad ergonomics, lack of exercise, arthritis, osteoporosis, a sedentary lifestyle, overexertion, pregnancy, kidney stones, fibromyalgia, excess weight, and more.
With all of these potential causes lurking, it's important to look at behaviors that can help you prevent and avoid back pain before it starts. Here are a few simple healthy back tips from the National Institute of Neurological Disorders and Stroke:
--Stretch and warm tissues before exercise or other strenuous activities.
--Practice good posture. Avoid slouching when sitting or standing.
--When standing, keep your weight balanced on both feet.
--Follow good ergonomics in the workplace. When sitting for long periods of time, rest your feet on a foot support. Make sure your chair and work surfaces are at the proper height. Get up and move around in between long sitting stints.
--Avoid high-heeled shoes.
--Watch your weight. Excess weight, especially around the waist, can put undue stress on lower back muscles.
--Exercise. Core strengthening moves, especially, will also benefit your back.
--Don't lift items that are heavier than you can handle. Remember to lift with your knees, not your back. Pull in your stomach muscles, keep your head down and in line with your straight back, and do not twist when lifting.
--Get a massage. Using therapeutic bodywork can melt pain-inducing stress away from your back and the rest of your body.